They're indispensable, especially if you're going for a run in autumn or winter—we're talking about headlamps. They make it possible for joggers to go out running, even in the dark—without getting injured, and staying visible at all times. But which are the best headlamps for running, and what should you bear in mind when buying one? pjuractive reveals all.
A headlamp for jogging—why?
There are very few runners who are still able to carry on jogging outdoors during daylight in winter and autumn. After all, people are usually too busy with other things during the day—like their work, for example—so it's inevitable that, at some point, they end up running in the dark (or at least, that is, if they can bring themselves to keep up with their running training during the colder months, too 😉). And since very few jogging routes are adequately lit, a headlight is vital for this, as it provides the following benefits:
You are better able to see the path ahead of you, so you don't run the risk of tripping on uneven ground and hurting yourself.
Everyone else can see you better as well. Whether it's drivers, cyclists, or other road users—a headlamp is simply much more visible than reflectors on your clothes, for example.
So we've established that wearing a headlamp when you're running makes a lot of sense. But what should you be looking out for when you're buying a headlamp?
Buying a headlamp for running—what to look out for
Anyone who's had a look for headlamps will know that there are a whole host of different models on the market. When shopping for a headlight, there are a few things to keep in mind to help you find the perfect headlamp:
Weight: When you're jogging, every extra ounce can slow you down. That's why it's important that your headlamp doesn't weigh too much. You should therefore make sure your headlamp weighs roughly 3.5 ounces. Headlamps weighing more than 5.3 ounces aren't really suitable for runners.
Brightness: Another of the most important factors when buying a headlamp is probably its brightness—in other words, the distance a headlamp is able to illuminate. It must be bright enough that the ground in front of your feet is properly lit as you run. If it isn't, then your headlamp isn't bright enough. It shouldn't be too bright either, though. Not only would that mean a heavier battery, but the battery life would be shorter, too. As a rule of thumb, headlamps for runners should have a brightness of about 100 lumens to light roughly 80 meters in front of you as you run.
Battery life: Headlamps need to last an entire run at the very least. But who wants to charge their headlamp after every run? You should therefore make sure your headlamp has at least a 20-hour battery life. These headlamps will usually still be very light, making them ideal for jogging. The longer the battery life, the heavier the headlamp will be. It is also possible to buy headlamps that use disposable batteries. With these models, the battery life is determined by the number of batteries. Rechargeable models are more eco-friendly, however—even if they do usually cost a little more to buy.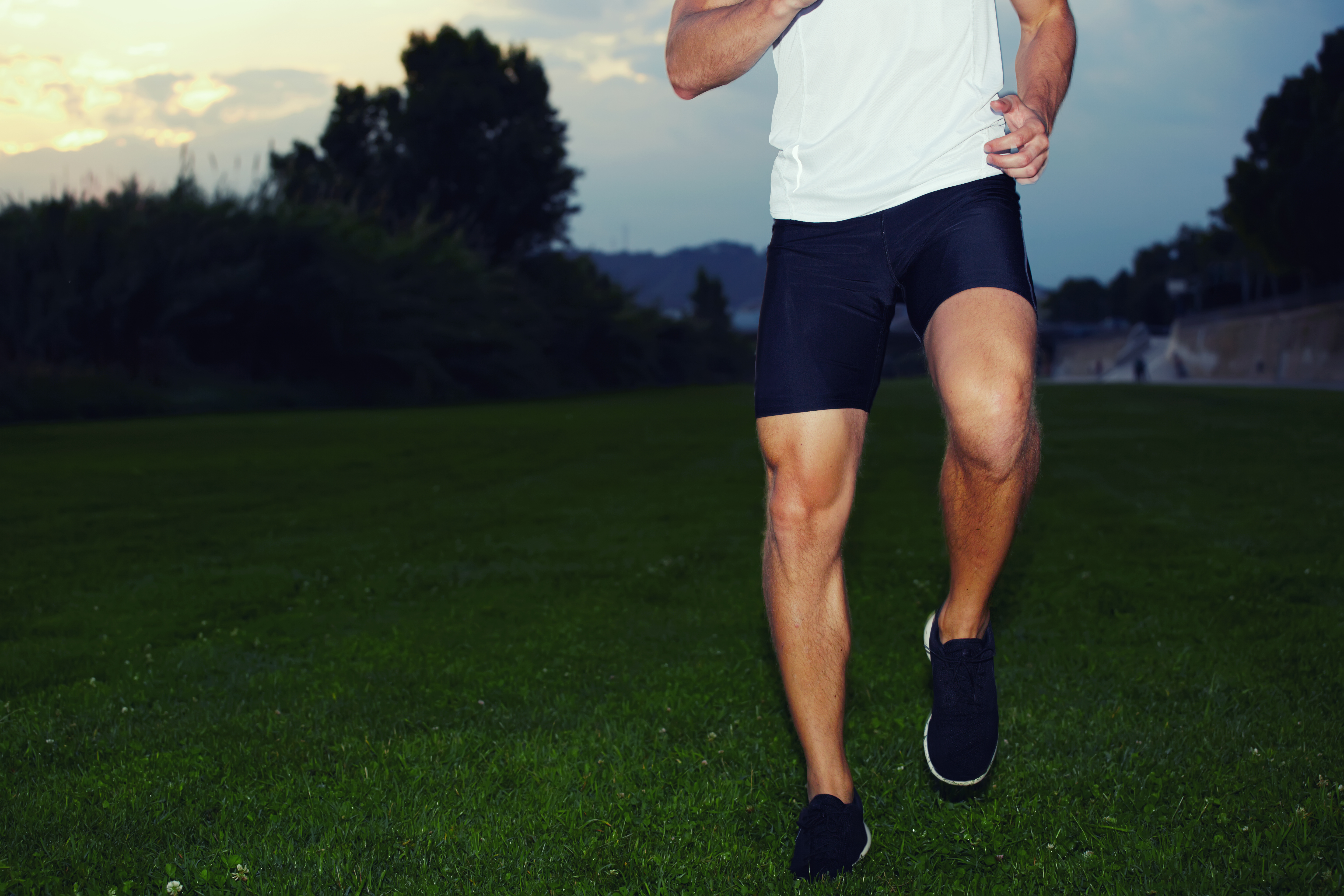 Usability: A good headlamp must be easy to use. After all, you need to be able to switch them on and off easily—including while you're running.
A good fit: Your headlamp needs to sit securely on your head so that it doesn't disturb you while you're running. It's best to test your headlamp to make sure it fits properly before buying it.
It's also worth going for a headlamp that doesn't just have a light at the front but one at the back as well. This will usually be a red rear light—just like with cars. As far as price is concerned, you obviously have to spend a little money to get a headlamp. However, there are models available for between 20 and 100 euros/US dollars, and these are more than adequate for amateur runners.
It can always be helpful to have a look at reviews of the different headlamps as well.
When it comes to the question of where to buy your headlight, there is no right answer. You can buy headlamps both online and in-store. If you're buying a headlamp for the first time, it may be a good idea to visit a specialist store. You will be able to get advice to help you easily find the right headlamp for you. If you've bought a headlamp before then you'll be more familiar with them, so you can also search online to find the right headlamp for running.
Headlamps for other sports
Of course, it's not just runners who use headlights. They're also useful—and even necessary—for hiking, mountaineering, night riding, and trail running. You should also bear the points above in mind for these sports, too. A headlamp with a brightness of about 50 lumens will be sufficient for hiking, however, whereas mountaineering calls for a similar brightness to that needed for jogging. When it comes to night riding and trail running, however, it's vital to choose a brighter headlamp. It should be able to light 100 meters ahead, which corresponds to a brightness of 300 lumens.
Without a headlamp, it will be hard to see—and be seen—when you're running. So if you want to go for a run in the dark, a headlight is essential!